The domain name (web address) of a blog is one of the most important things when starti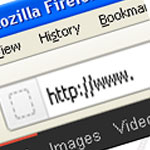 ng a blog. The domain name is the first identifier of your blog and it can give it a more professional look (depending on the kind of domain). Let´s take the two following addresses. Which seems more professional to you www.us-sports.com   or   us-sports.blogger.com ?  When you search for sports in the USA you will probably prefer the first domain.  Getting your own domain (and not a free one using blogger or whatever) is important for the image of your blog.
If you want to get your own domain you can follow our easy tutorial for creating your own domain or the tutorial how to start a blog.
A domain name should contain one or more keywords of your blog. When potential visitors or a search engine reads the name of your blog, it will give them a first idea about the topic of the blog. Keeping the same example as before. www.us-sports.com will contain information about sports of the USA. So maybe another web called www.bobs-hobby.com contains even better information about US Sports, but if you read the names of both webs, you will probably pick the first one when you are searching for US Sports. If you try to guess the content or topic of the second website, you can´t know as "Bob" could have a lot of strange hobbies.
For search engines as Google or Yahoo the domain name is also very important. If you want your blog to appear at the top of the search engine results, you should get a good domain name. Once you know the main topic of your blog and some posts you have in mind, create a little list with some keywords you will repeat along the different posts. After that, go to the website of GoDaddy and register your domain name.  You should pick a domain using one or two keywords in it (not many more as it could be interpreted as spam).  Getting a domain name and setting up your server for this domain is very easy. In our tutorial we explain to you how to register a domain with GoDaddy and how to host it at Hostgator´s server.  In addition we have set up a voucher coupon for Hostgator so that you can save 25% of the regular price.
Click here for getting to the step by step tutorial How to start a blog?
The registration of a domain name and the configuration of the server will take you just a few minutes. The tutorial contains a lot of pictures and a video you can follow. Everyone can start a blog with its own domain using this tutorial.
Another advice we want to give you is to choose a "com domain". Com domains are used for American and international websites. They use to be also cheaper as some exotic ones.