The WordPress dashboard is the home screen of the control panel of your blog. The control panel is divided in two parts. The first one, the main menu, is on the left site of the screen. In the menu you find links for accessing all the submenus for setting up your blog, posting, etc.
The second part of the screen is the main window where all the information is shown.
First of all let´s see the dashboard. You will find there the most important information of your blog. In one box you get information about the latest comments of your visitors to approve. In another box you can post very quickly without having to go to the post menu. That´s good if you just want to post a quick message without formatting the text or adding pictures. But we recommend that you use the main menu for accessing all the submenus for a better blog administration.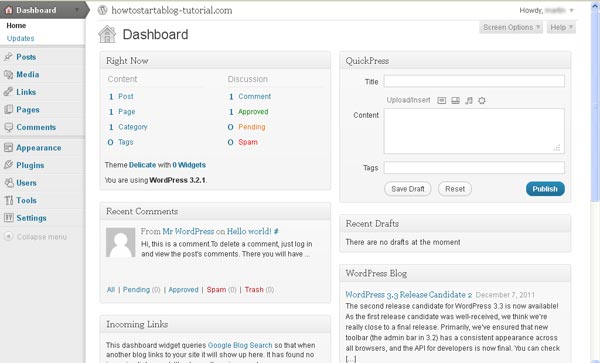 Pressing on "Users" you can add more users with different Roles. If you aren´t administrating a blog on your own, you can create more user accounts. You could be the administrator and other persons could be "Editor", "Author" or "Contributor" for example. Depending on the assigned roll you can limit the permissions of those users. Press here for reading more about WordPress user rolls.
If you want you can install additional widgets on your dashboard for getting some other instant information about your blog. This can be very useful.
The main menu is at the left side of your control panel. The most important tools can be found under "Posts", "Comments" and "Plugins". When you start a blog you will have to use also "Settings" and "Appearance" for setting your blog up.
When you press on an item of the main menu, sometimes a submenu with more options will open.  The information of an item is always shown at the main window of the screen.  There you can make changes, post, etc.
Using the control panel of WordPress is very easy. Once you configured everything you will just need to post and accept comments. Follow our how to start a blog tutorial for learning how to install WordPress on your server.