For uploading files to your server you should use a good FTP program as FileZila. You can learn how to use them on our FTP tutorial but there is also a special tool you can use. The server we use offers a "File Manager". It´s a kind of FTP but with a beautiful interface. The disadvantage of it is that it isn´t as powerful and professional as a real FTP program.
For using the file manager you have to access your server´s cPanel and scroll down to the "Files" section. One of the links is called "File Manager". After clicking on it a pop-up window appears asking you to select a directory to open and the domain (in case you got more than one). If you select the Home Directory you will access to the lowest level from where you can access everything.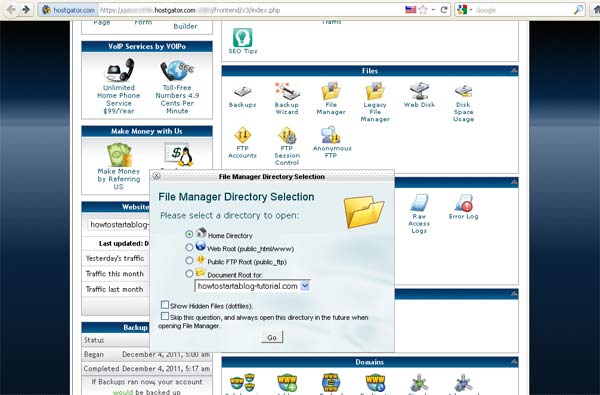 In the following site you will find your whole server content. All your files will appear like using Windows Explorer at your computer. The www directory is the one where your website or blog files will be stored in.

If you want to upload a file you just have to select the "Upload" icon from the top menu and press on the "browse button" on the next page. There you can select a file from you local computer and upload it to your server.
The File Manager is easy to use, but we recommend you using a real FTP program you can run from your Desktop without having to login first to the cPanel.