Posting on your blog using WordPress is as easy as sending an e-mail. You just have to fill the title and the text. In addition you can add a picture or a video to your post for making it more attractive. Doing this is very easy.
The first step for posting is to go to your WordPress dashboard and select the "Posts" button from the main menu (at the left side).
A list of all your posts will appear. You can delete, edit and read them.
When you want to create a new post you have to press on "Add new".
Write the content
All you have to do now is to fill two fields. Enter a headline or title for your post. Try to use a keyword in the title. There are some plug-ins for selecting good titles for your posts. Now enter the main text of the post. You can change the design of your posts by using different options as: bold, italic, align, adding links, etc.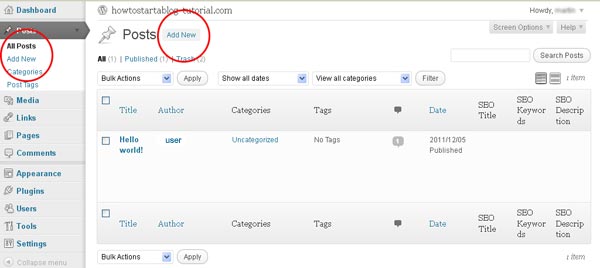 Add media
We recommend to add some pictures or videos. People don´t like just reading long texts. They also want to see some pictures, graphics or videos. You can add them by pressing on one of the Upload/Insert icons. For a better performance of your blog and to speed up your server you should adjust the size of your pictures. Big pictures take longer to load. Here we will show you how to adjust the size of pictures for your blog.
After you finished your post you can add a category to it and watch a preview before publishing it.
If you need to change something of your post after publishing it you can do it by returning to the "Posts" site, selecting your post and pressing on "Edit".
If you want to publish a page with WordPress instead of posting a post, you can do it in the same way by going to the "Pages" item at the main menu.