Most bloggers don´t really care about the theme and the design of their blogs, but you should. The first impression of your blog is important for your users. A good design attracts more people.
If you already installed WordPress as described at our tutorial How to start a blog and you visited your blog, you will have seen that by default you get a very simple (for not saying boring) design.  In this tutorial you will learn how to change the WordPress theme within minutes.
Appearances and themes
First of all go to your WordPress dashboard. If you haven't done it before please read our "How to login to WordPress" tutorial.
On the left side menu you have to go to "Appearance" and select "Themes". By default you will just have two installed themes but keep cool, installing new themes is very easy.
On the top you will find two tabs. Click on the second one called "Install Themes".  After that some links will appear below the tabs. Every link gives you a different option for installing a theme. If you don´t know any theme, you can choose "Search results" or one of the last three links. A list with previews will appear. If you prefer you can also download a theme from another website and load it to your server using the "Upload" link.
In our example we will select "Search" and write the name of a theme. In this case "delicate".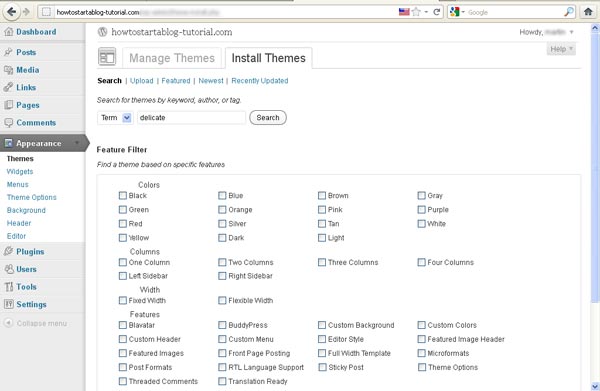 A new page opens with the theme we searched. Now we can look a preview or install the theme. After installing it we just have to press on "activate". That's all. If you visit your blog now, you just have to update (pressing F5) and your blog will appear with your new theme.
Customize menus, options and widgets
This was the first step for customizing your blog. Now you can return to the dashboard and press again on appearances. You will find different things that you can change. Just try changing the menus, theme options, widgets, etc.  We recommend that you change the header (with your blogs logo).
You can change the theme as many times you want, but once you adjusted the design and started blogging you shouldn´t change it (as your visitors get used to it).
After doing some changes, you will get a unique blog. All you need now is good content for your blog.
Security Advice
Some free themes can contain malicious code as viruses or spam links. You can download save themes from the official WordPress website, websites you trust and premium themes websites (you have to pay a little money).