Hostgator´s Cpanel is the control panel where you can configure your server. When you sign up at Hostgator as described in the article how to start a blog you will get an e-mail from Hostgator including your username, password and URL for getting access to your control panel.  The username is the one you selected during the registration. The password is random (you can change it later) and the URL is very long and difficult to remember (you should bookmark it).
https://gator(some numbers).hostgator.com:(some numbers)/frontend/x3/index.php
After logging in you will access your cPanel. The cPanel is a private website (only you can access it) with a lot of information about your server and domains and with a lot of tools you can use.
On the left side (if you scroll down) you will find information about your Website traffic (visitors), backup status, statistics and your account information. On the right side of the cPanel you will find a lot of icons organized by categories. The most important categories are "Mail", "Files", "Software/Services" and "Logs" when you start a blog.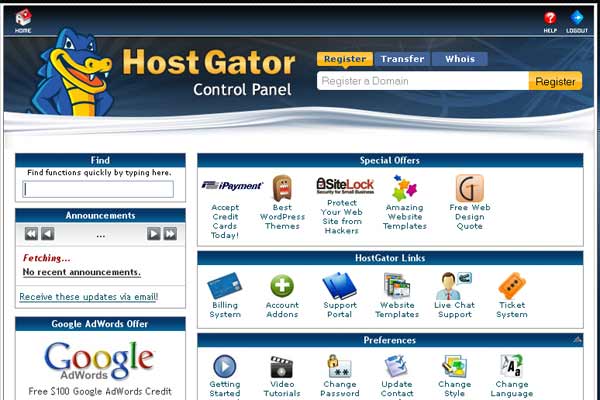 Press on the image for seeing the complete Cpanel.
First of all you should press on the "Fantastico De Luxe" icon at the "Software" category for starting a blog (and installing WordPress). You also have to create a new mail account.
Once you start a blog, post and you get visitors, you should check your statistics at the "logs" category. This will help you to understand your visitor´s behavior.
After installing WordPress you can access to the dashboard with your new username.
Once you are getting used to these basic items of the cPanel you can try other tools.
If you live in the United States or Canada we recommend that you use the Advertisement Credits you get free when you start a blog (or a website at this server). These credits allow you to place adverts on search engines. People that press on the advertisements will be redirected to your blog and you will get your first visits. Google has an advertisement program called AdWords.