Disclosure:
We may offer third party services or products (as ads or affiliate programs) on our website. We are not responsible for their policies as these websites are independent entities. Despite of being linked to ads or affiliate programs, the compensation will never influence our opinion. Articles are posted with our own opinions (also if we recommend you a product of an affiliate). Everything explained on this website has been tested before and implemented at our own websites. The tutorials are based on our experiences. For product claims or specific questions you should contact the provider.
Privacy:
We don´t disclose any information to other websites or other outside parties. We do not send, sell or trade your personal information. No personal information will be used for third parties marketing or advertising campaigns. We take precaution with your personal data.
We collect information from you when you register to comment on this site, fill out the contact form or register for free downloads, newsletters, mailing lists, competitions or promotions. We only will use your personal information (name and e-mail address) for answering to your mails or sending you related information.
By submitting your information you consent to the use of that information as set out in this Policy. If we change our Privacy Policy we will post the changes on this page.
Responsable:
Owner of this website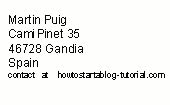 Copyright:
The content of this web site (pictures, maps, text, etc.) has been created by the howtostartablog-tutorial.com team.
No part of this site may be reproduced in any form without prior written permission of authors. You can contact us by e-mail for permission requests.
We are not responsible for the content of any outgoing link or comments of users. Nonappropriated comments will be deleted.