If you want to know how to start a blog or website, this is the site you were searching for.
We prepared tutorials for creating your blog on your own server following some simple steps.
We recommend that you use WordPress and host your own domain at the American Hostgator server. We will also explain to you how much it costs and how you can get a special discount. Follow our step-by-step guide and start a blog within minutes. Keep reading and you will learn very fast how to start a blog.
Choose a domain name
First thing you have to do when you create a blog or website is to think about the topic and get a related domain name. Your domain name should include at least one relevant keyword for your topic. This is important if you want to get a good position at search engines. A better position will bring you more visits. Keep reading here for more advice on how to start a blog and how to choose a good domain name.
Register a domain and host it on a server
Blogs or websites must be hosted on a server. To keep it simple and cheap most websites and blogs are hosted on servers of hosting companies. These companies set up everything so that users don't have to know anything about servers and can start using it within a short time. Most companies offer a 24/7 technical support.
Hosting a blog on a server is very cheap. At Hostgator for example the prices start at 3.71 $ a month for the basic hosting (if you use a coupon code). We have had good experience with this server and hosted our "how to start a blog" website on the same one.
Get 25% off using the discount code: startblog25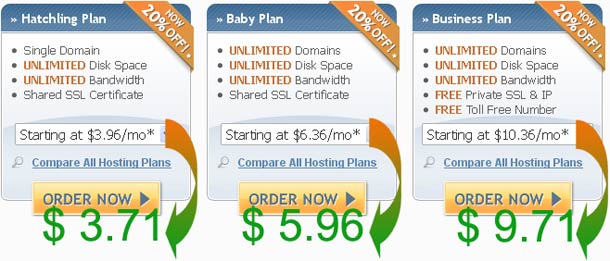 We set up a Hostgator coupon code for you so you can get 25% off the price. You just have to copy the coupon code startblog25 and paste it into your order at the official Hostgator site.
Use a coupon code for saving money
When you visit the server site and choose one of the different hosting plans you can save 25% of the price. If you just need one domain we recommend that you order the "hatchling plan" (it´s the cheapest). Select the plan and change the default coupon code to startblog25  for getting 25% off. If you need more information visit our hostgator coupon code tutorial.  Hostgator don´t only offer you this discount. They will also give you an additional 100$ voucher for Google Adwords (if you live in USA or in Canada) to help you to promote your blog or website.
One click installation for WordPress
Once you have registered your domain you can start using the server (webspace). Big hosting companies like Hostgators offer you a "one click installation" for WordPress. You just have to fill complete a form with your new username and a password and the rest will be done automatically. You just have to press one button. The installation will take less than twenty seconds. It´s very easy. Follow the link if you want to read a how to start a blog step-by-step tutorial with pictures from the WordPress installation process. Using a 1 click installation you don´t have to create and configure any MySQL databases as it will be done automatically.
WordPress configuration
WordPress is the most used content management system. The best part of it is that it is free, powerful and easy to use. WordPress is ready-to-use but we recommend that you take some quick changes for getting a better performance. We recommend that you visit our WordPress tutorial for this. We will show you how to create a blog, customize it, change the layout, create menus, install plug-ins, change permalinks and much more.
Blog posts
Once everything is set up you can start posting. You just have to go to the post menu, write a title and a text and press on the "Publish" button. Press here if you need more information about how to post.
Advantages of blogs
There are several advantages of starting a blog instead of starting a traditional webpage. Normally web pages need to be coded one by one. You need some coding and computer skills. If you use a CMS (content management system) as for example WordPress, you don´t have to code anything. Just configure your blog, install plug-ins (if needed) and keep on rolling. You can use WordPress also to create a CMS based website using all the plug-ins and advantages of a blog. Here we will tell you how to start a blog. Using the comment functions you can interact with your visitors that can comment all your posts. Also the maintenance of a blog is very easy and comfortable.  As the WordPress software is free it is very cheap to start a blog. You just need a server for hosting your blog. Servers are cheap nowadays. Check hostgator prices here. For WordPress you will find also a lot of free plug-ins, widgets and themes. If you want a customized theme (that not everybody has) or some very exclusive and specialized plug-ins, you can buy premium themes and premium plug-ins. These plug-ins will normally make you save a lot of time when administrating your blog. In most cases using premium software is worth it.
About this website
This website (www.howtostartablog-tutorial.com) is not ment to be the ultimate WordPress or blogging page. We are just sharing our knowledge with other users. On this website we publish articles, posts and tutorials for helping you to create your first blog. You will find tutorials to start your blog and to improve it.